We provide a loving and safe environment, while promoting fun for our kids to learn the word of God. We have a bible centered curriculum called Faith Weaver Friends. All children are welcome! Nurseryages 0-2 years old; Pre-School ages 3-5 years old; Elementary ages 6-11 years old. We provide breakfast on Sunday mornings at 9:30 AM for kids ages 3-11 years old. Children's church is held on Sunday's at 10:30 am. On Wednesday nights at 6:15 PM we provide dinner and a movie for kids ages 2-11 years old.
Matthew 19:14
Giving teens a clear pathway with cutting edge training tools to teach them how to share the gospel of Jesus Christ effectively is our focus. We equip all of our youth with essential life skills to help them reach their full potential in everything they do. Our meeting times are Sunday Mornings at 9:30 AM for our "Breakfast 4 Champions" classes, where we feed the teens physically with a hearty breakfast and also spiritually through the word of God. Wednesday Nights are a fun and upbeat experience for teens with our "Wednesday Night Workshop" at 6:15 PM, where we enjoy the latest Christian music and videos and learn life skills.
Our 9th annual "Restart" youth conference is going to be awesome! It will be held on November 18th 2017 at 4pm! Location: 912 West 6th Street, Sterling,IL (City Of God Sterling Campus). Restart Concerts help restore the sense of purpose and vision through music, by promoting non violence, a drug free community and non gang violence. Only God can make this happen, please support this awesome cause! If you enjoy dance, rap, rock, worship, City Of God is the place to be for this year's Restart 2017 Concert! Visit our website at Restartconcerts.com for more information.
Are you a teenager with the seeds of greatness inside of you? Don't miss out on this amazing opportunity to be apart of Chozen Youth In Christ! Visit is on our CYIC Facebook Page Today! https://www.facebook.com/pages/CYIC-Youth-Ministries/210581428981836
Jeremiah 1:7-10
Our focus is to inspire girls to change the world through Jesus Christ, and to teach them who they are in Him. We teach the girls meaningful skills and potential career choices such as singing, dancing, instruments and technology. This dynamic group is open to girls ages 7 – 11 years old.
Isaiah 54:13
The mission and desire of this extraordinary group is to help boys grow in their faith in God and to teach them how to properly conduct themselves at home, school, and in the community. We use arts, sports and activities to train them how to be the best man they can be through Christ. (Boys ages 7 – 11)
Proverb 22:6
Our vision is to grow our Young Adults in their knowledge of the bible and help build their faith. We provide times of Fellowship and fun to build relationships and long lasting bonds with each other. While also providing an alternative environment to the negative influences and pressures the world has to offer. Every month we meet for a major gathering or outing. Come join us!
(Ages 18 – 40) 1 Thessalonians 5:11
Our aim is to go into the Streets, Nursing Homes, Prisons and areas where no one else will go and reach every man, women, and child regardless of their situation or background. We hold community wide events as well as street evangelism events that truly supply the spiritual & physical nourishment that the lost and hurting need in our community.
Romans 1:16
Spanish Outreach – Two Languages – One Church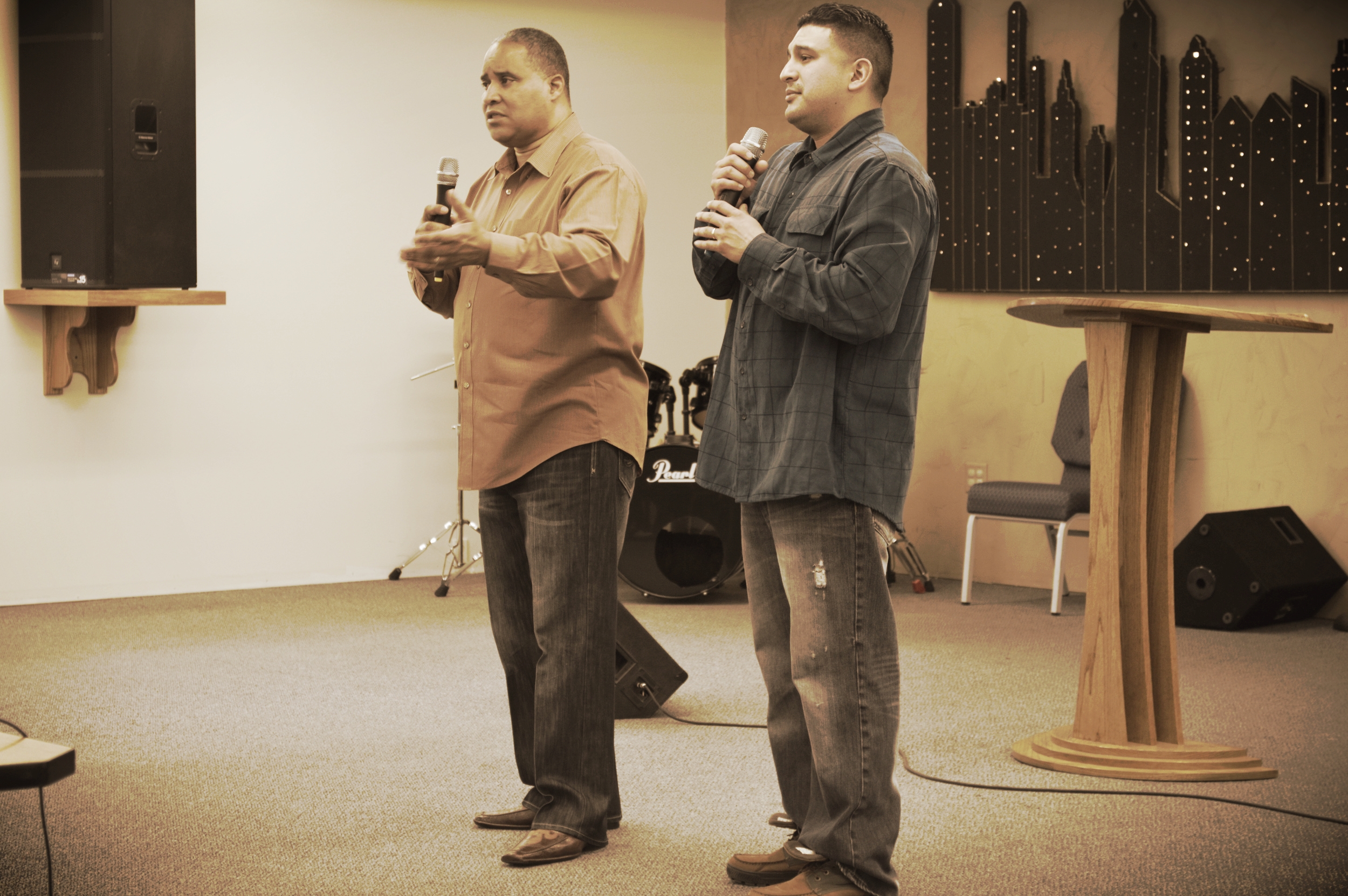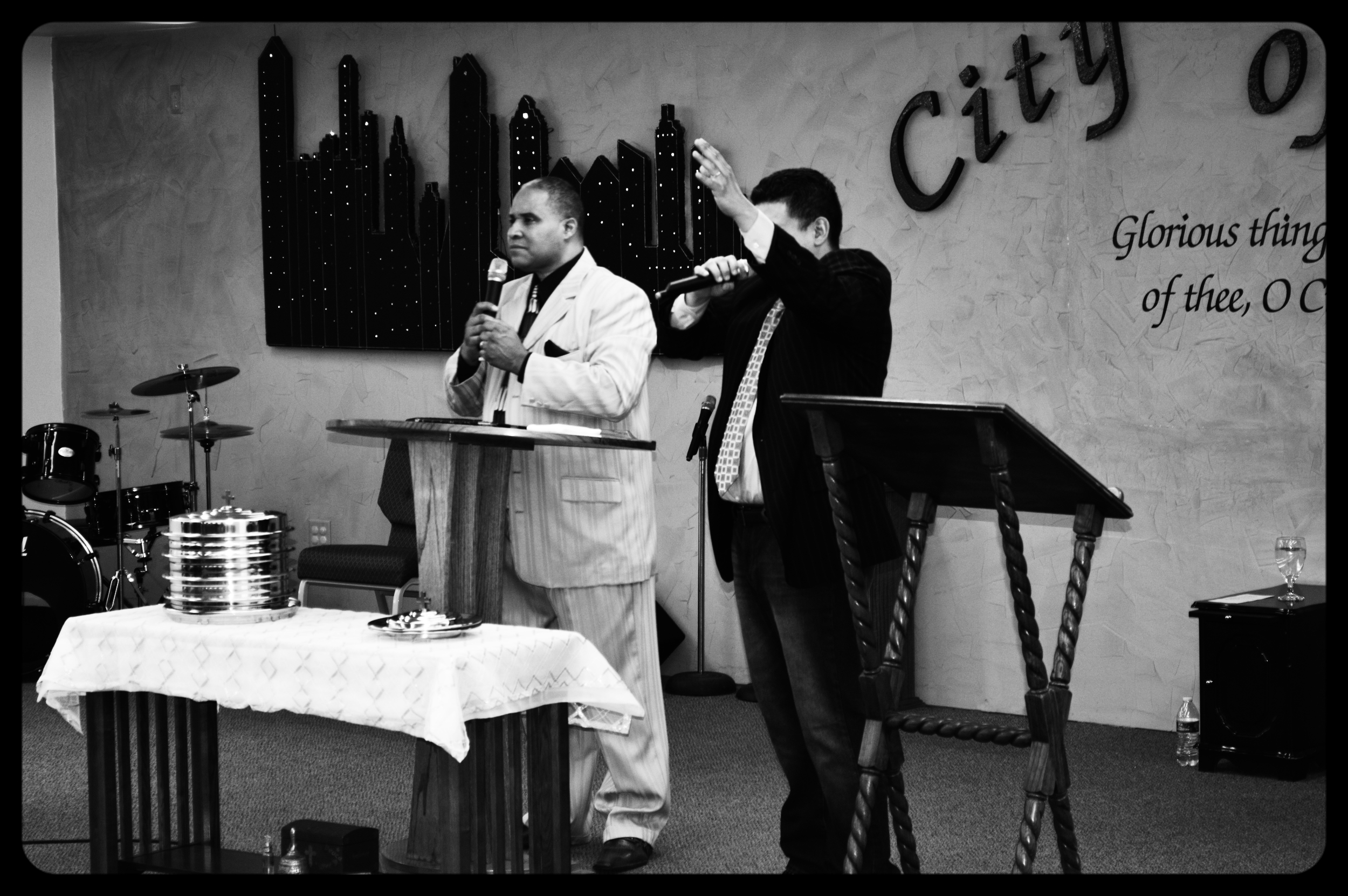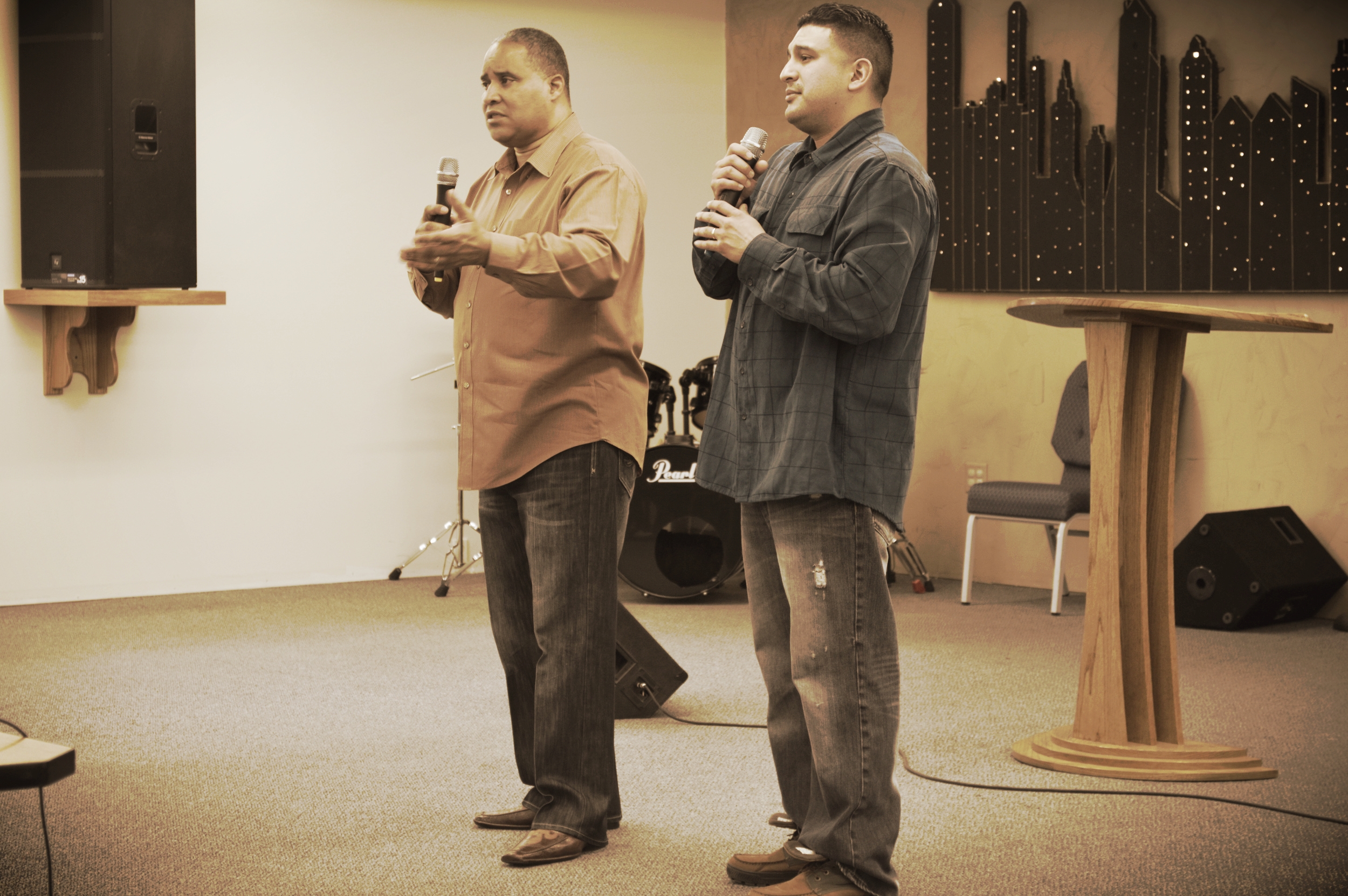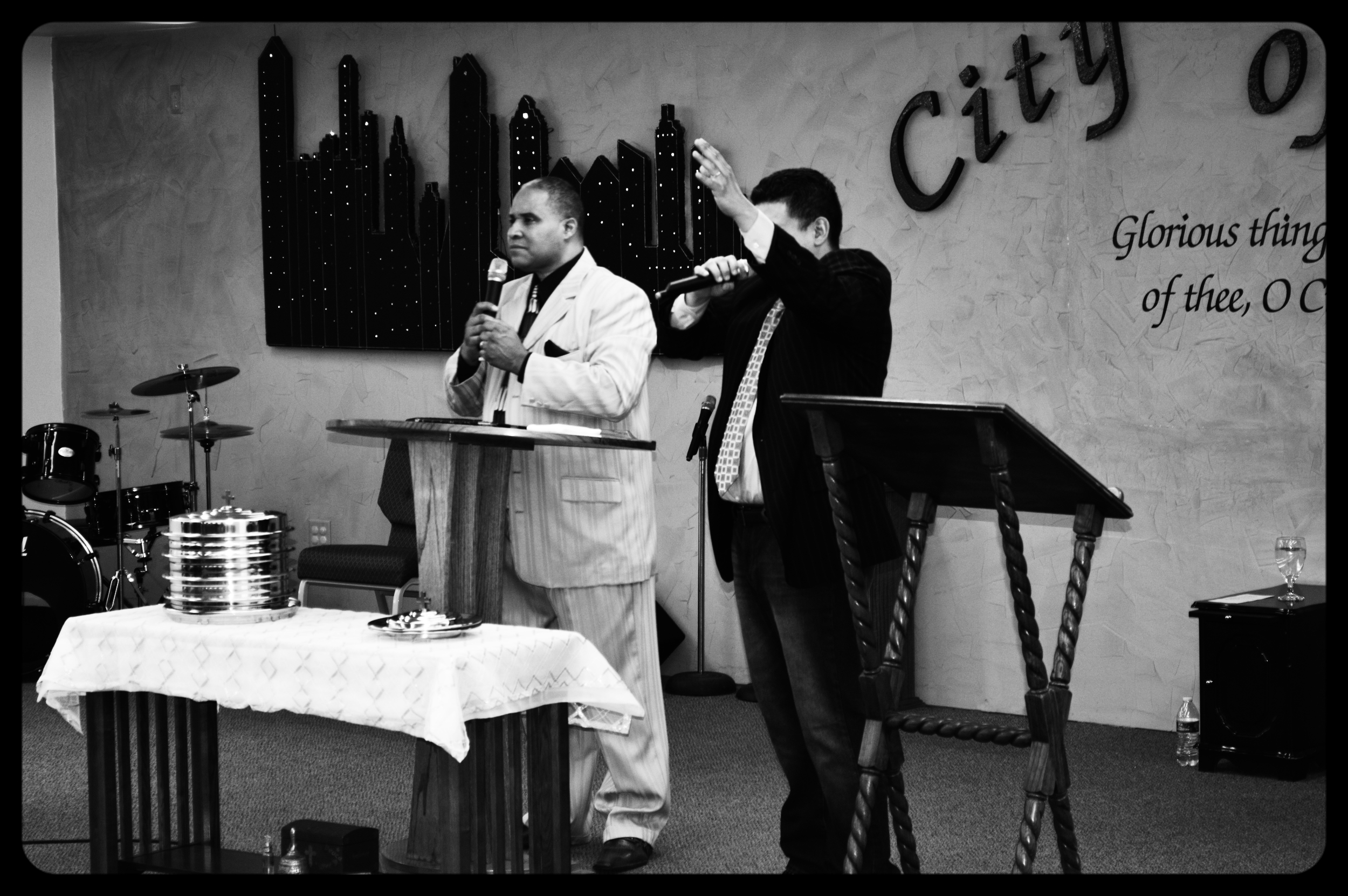 Our passion is to preach the good news of Jesus to all people in our community no matter their race or background, so they can have the opportunity to accept Jesus as their Lord and savior. Currently 25% of residents in Sterling, IL are Hispanic. Our goal with Spanish speaking people is to help them restart their lives and dreams so that serving God becomes the primary driving force of all they do. We do this through English language classes, assistance with employment opportunities, family counseling, outreach programs, and spiritual formation classes. Each Sunday we offer Bible teaching in both Spanish and English. Our worship songs are sang in Spanish and English also. We have a place for you!
Matthew 28:19
The Hospitality Ministry Facilitates:
* Church members recovering from a stay at the hospital. (We deliver meals to the family.)
* Mothers and families after baby is born. (We deliver meals to the family.)
* Funeral Dinners for church members (Arrangements are made by the family for us to serve.)
* Annual Church Meetings (Luncheons etc..)
* Special Church Events (Picnics etc..)
Matthew 25:35-40
Allowing the Holy Spirit to create an environment for God's people to pray is our mission and definite purpose for this vital ministry. Prayer is the backbone of City Of God, corporate prayer as well as individual prayer is the key to our ministry. Prayer for our Nation, President, Government, Israel, the Body of Christ, Lost Souls, Broken families, our Pastors, Church Leaders and Members are a huge part of our prayer ministry. We hold dynamic prayer meetings Monday's at 6pm. Come and join us for this special time! Matthew 18:20
Our vision is to build the character of Jesus Christ into every man who is a part of our Men's Fellowship. We want our men to develop strong friendships and accountability among the men at City of God through regular gatherings and group interactions.
Proverbs 27:17
Our vision is to see every woman develop in the purpose and calling that God has for her. Our goals are to promote oneness and unity with a sense of family and sisterhood. Through meetings and frequent women's fellowship events we are committed and passionate about the women of God!
1 Peter 3:8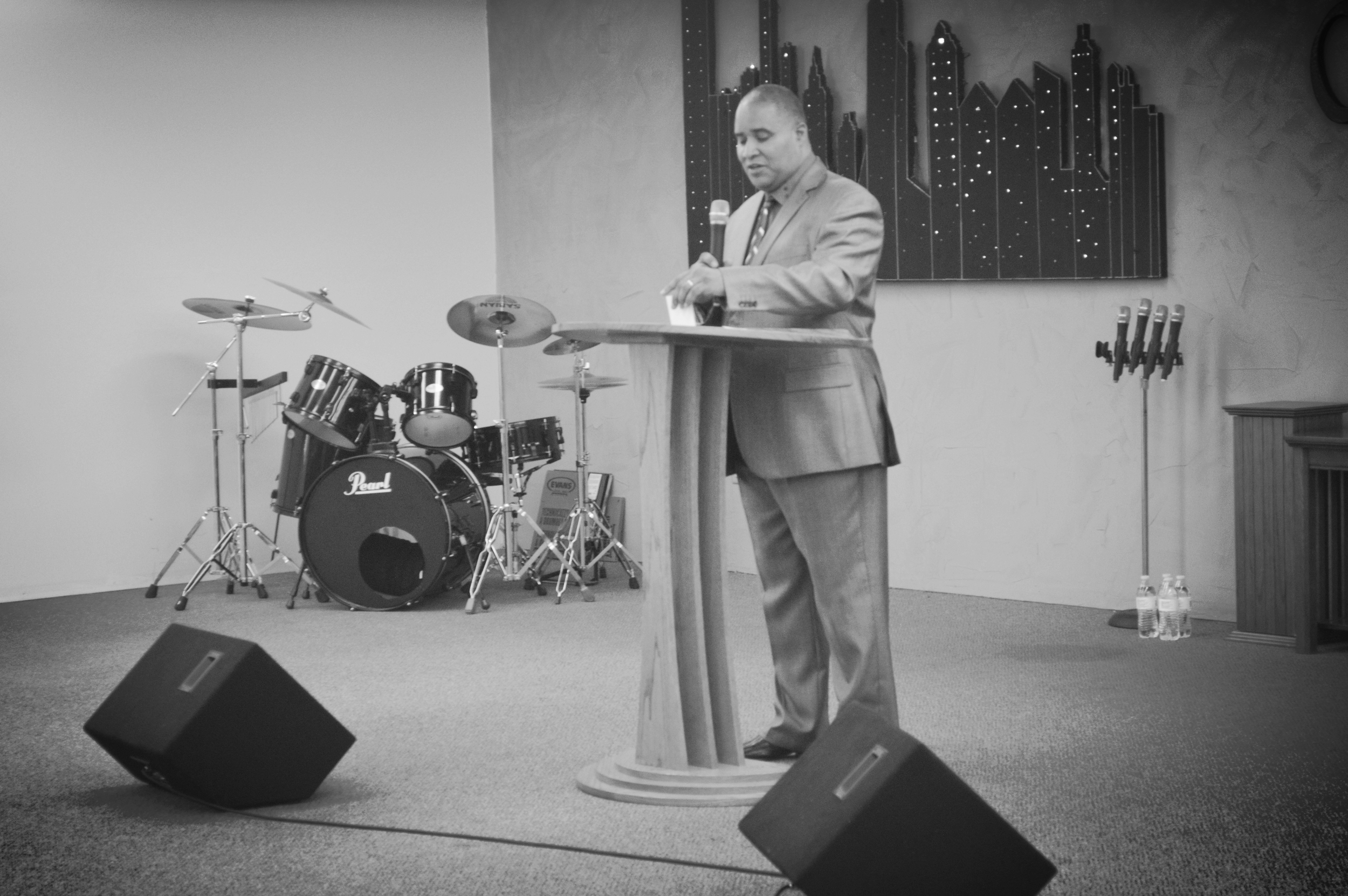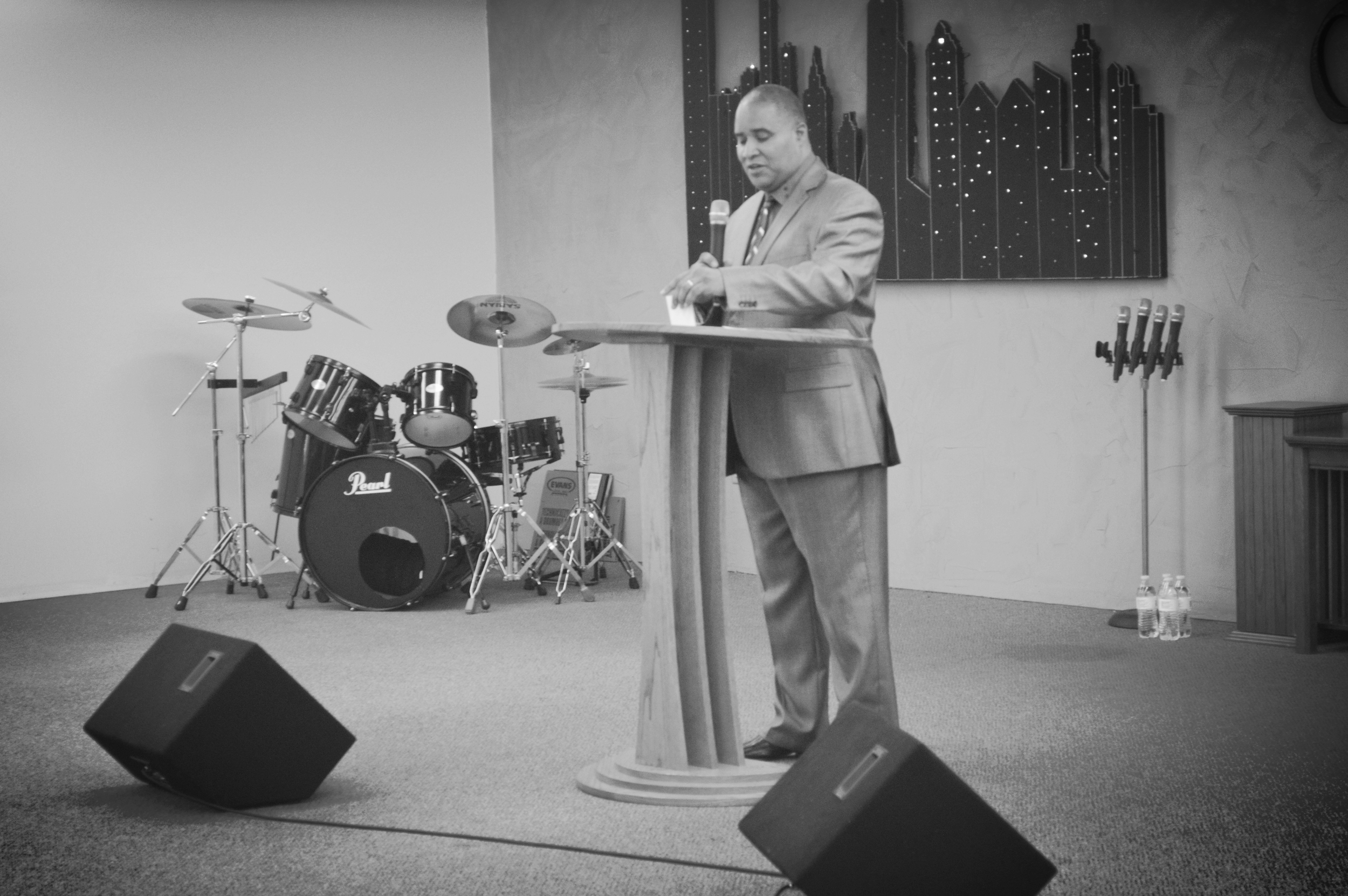 The development of Christ-centered men, women, youth, and children is central to our focus at City Of God. We understand that in order to impact today's changing world we have to become better equipped with Godly knowledge and wisdom. This mission is carried out by educating students of all ages through regular classes, workshops and conferences geared toward their respective age groups. Our weekly education and Bible study night is held on Wednesday Nights at 6:30 PM, Children get fed a hot freshly prepared meal while watching a fun Bible based movie , Teens enjoy a relevant Christ centered message and Adults participate in an interactive dynamic Bible study. Come out and celebrate Christ with us! Proverbs 4:7
Eagles Wing School of Ministry
The vision for Eagles Wing is to build a team of leaders, for God, who will not compromise, bend, yield or give in to any of the wiles of the enemy. It is to build up men and women who are willing to take responsibility for their own actions and to make righteous decisions, by the Spirit of God. God is rising up an army of radical leaders who are willing to accept the challenge, to face it head on with integrity, character and a commitment to do the right thing in the sight of the Lord and all of mankind. (Isaiah 40:31) The Lord birthed Eagles Wing School of Ministry into Pastor Larry Harts' heart in 1993. He directed him to train up hungry leaders who had a heart and desire to please God, and God alone. The Lord wants leaders who will not compromise the truth of His Word. He wants leaders who are willing to face adversity and continue to fight "the good fight of faith." God is doing exciting things, and there must be courageous, strong and bold leaders to carry on His work in this fierce battle that the enemy has waged against the body of Christ. God is calling out and training up anointed men and women to lead in the campaign to take back what the enemy has stolen from us. We are the "Joshua Generation," and we are going to enter into the Promise Land! Leaders are like eagles that were in a place of comfort, but now there is a stirring of the nest. It's time to soar! For more information on Eagles Wing School of Ministry, email us at Pastorlarry@cityofgodsterling.org.
Adults – Ages 60 and older
We provide fellowship, fun and care for our church family members who are blessed to see this amazing and wonderful level of spiritual maturity. Sending birthday, wedding, and anniversary cards every chance we can while also providing hot meals, and checking on them throughout the week are just some of the amazing fellowship opportunities we provide.
John 13:34 -35
Visitation Ministry – The Master's Touch – Christ Love
Our vision is to reach out to all City Of God church family members with the Master's Touch Program. This unique program offers an amazing way for City of God to interact throughout the week with each other. The leadership of our church calls, visits and sends cards to each individual member letting them know that they are loved and not alone in their walk with Christ.
1 Peter 4:8-9
At City Of God praise and worship is more than just a song or catchy tune we sing during service, it's a lifestyle of worship that we strive toward. By laying down our selfish ambitions and worldly desires we are allowing the presence of God to help us in our lives. We realize that we are just vessels that God uses when we sing or play an instrument during the worship service . We offer a wide variety of the latest contemporary and urban worship songs in Spanish as well as English. Come and Praise with Us, Don't Miss Out! Psalms 150
The City Of God Food Pantry provides perishable and nonperishable food, produce, meat and fresh bread. The Pantry is available every 2nd & 4th Thursday of the month from 11:30am - 1:30pm at our Sterling Campus, located at 912 West 6th Street Sterling, IL. If you are in need of food we welcome you to join us.